Product Description
3M™ Cubitron™ II Cut and Grind wheels are engineered with precision-shaped grain to cut faster than competitive ceramic products
Triangular shaped ceramic grain wears evenly, runs cool, and optimizes mineral breakdown, for extra-long life
Rigid, reinforced resin-bonded wheel is designed to be used both as a grinding wheel and as a cut-off wheel on both stainless and mild steel substrates
Also available with 3M™ Quick Change attachment for improved productivity and throughput
Our 3M™ Cubitron™ II Cut and Grind Wheel features 3M Precision Shaped Ceramic Grain to bring you an exceptionally fast-cutting and long-lasting wheel for use on both stainless steel and mild steel. These versatile wheels are designed to be used both as a grinding wheel and as a cut-off wheel – making them ideal for cutting, grinding, gouging and more.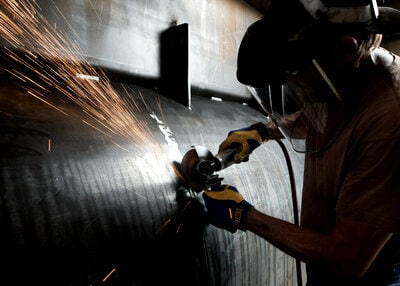 Inclusive Design
Unlike other abrasive discs, which are designed for just one job, our 3M™ Cubitron™ II Cut and Grind Wheel can meet multiple challenges without the need for swapping out disks. The flat, reinforced inner surface can shape or sand objects, while the thin outer edge can be used to make perpendicular cuts and gouges. This inclusive design negates the need for multiple abrasive tools, and can help to maximize production.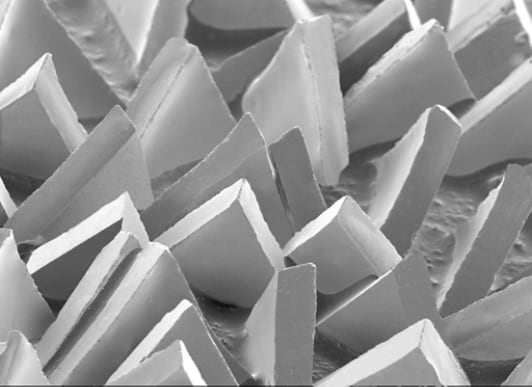 Precision Shaped Grain
Precision Shaped Grain
To create Precision Shaped Grain, our engineers started with 3M™ Ceramic Abrasive Grain and used proprietary technology to form the grains into triangular structures. These peaks slice cleanly through metal like a knife through butter, rather than gouging or plowing as traditional abrasives do, and continuously self-sharpen as the points fracture. This generates a super-fast cut and lessens heat build-up due to friction, reducing heat-related stress cracks and discoloration.

Wheel must have a maximum operating speed greater than or equal to the maximum speed of the power tool used and must be used with a wheel guard that fits the size of the cut-off wheel.
Unit of Measure:
Each
interval quantity:
50
Size:
6 in
Grit/Grade:
36+
Product Videos