Product Description
Solid, dense and conformable wheel produces a professional finish the first time, without undercutting, gouging or distorting the workpiece
Softer construction improves conformability and operator comfort
Effective for all types of metals, composites, and glass, allowing one wheel to perform more tasks
Convolute construction keeps the wheel running smooth, producing a consistent, superior finish
Minimizes heat build up to reduce risk of discoloration and warping on heat-sensitive substrates
Make this non-woven wheel a "go-to" abrasive for a wide range of metal finishing jobs — from deburring and edge radiusing to cleaning, light defect removal and more. 3M™ General Deburring Wheels are an outstanding value — especially when you have a wide range of small finishing jobs throughout the day. Now you can clean, deburr, radius and more without having to stop and change wheels.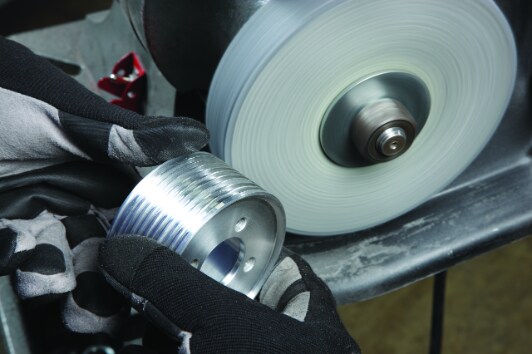 This wheel provides the performance required for light to medium deburring applications, as well as for cleaning and finishing
Balancing Durability with Conformability
The non-woven construction of 3M™ General Deburring Wheels conform to different surface configurations, giving you more control and less chance of gouging than with more rigid wheels. This general purpose wheel is dense for long-lasting conditioning yet softer for better conformability than hard wheels and improves operator comfort. Convolute construction provides uniform wear and keeps fresh abrasives continuously exposed, making it a superior choice on heat sensitive substrates.

Sharp-Cutting Mineral, Responsive Open Web
Our General Deburring Wheel uses fine grade silicon carbide mineral. Silicon carbide is a synthetic mineral that is very sharp and commonly used for low-pressure applications such as paint prep. While it breaks down faster than aluminum oxide, it produces a superior finish.

The non-woven material is an effective surface conditioning product with abrasives incorporated into non-woven nylon fibers. Combining abrasives with the fibers creates an abrasive system that delivers consistent results for the life of the product. The open-web material is load resistant and keeps the abrasive minerals cutting at high performance by limiting clogging of the nylon fibers.
Unit of Measure:
Wheel
interval quantity:
5
Size:
8 in
Grit/Grade:
FIN
Product Videos
Custom Field
Product Data Sheet
http://images.salsify.com/image/upload/s--EqXaMOM6--/eaekyhhqbrw99iblt4e6.pdf