Product Description
Provides extra cut and longer life than SC and PD Surface Conditioning discs for heavy duty deburring and finishing
High, fast cutting yet conformable disc is ideal for edge deburring
Conformability combined with secure, hook and loop attachment provides aggressive cutting without damaging the base material
Open-web construction resists loading and runs cool, allowing for consistent finishes
3M™ Hookit™ attachment system offers quick and easy disc change-out for multi-step finishing processes
Scotch-Brite™ SE Surface Conditioning Disc combines an aggressive, non-woven disc to perform heavy-duty deburring and finishing with the efficiency of a hook and loop attachment system. Our heavy-duty non-woven fiber construction conforms well to help preserve edges as well as irregular or contoured surfaces.
Our Scotch-Brite™ SE Surface Conditioning Disc uses aluminum oxide abrasive. Aluminum oxide is a popular choice among industrial professionals because of its cut-rate and long life. This mineral is a tough, durable abrasive that self-fractures to expose fresh cutting edges in use, whereas traditional abrasives, such as garnet, quickly wear down with use. Due to its high cut-rate, hardness, strength, and low heat retention, aluminum oxide mineral is widely used in grinding applications in addition to sanding and finishing use. Aluminum oxide is suitable on a wide variety of substrates in both woodworking and metalworking, including ferrous alloys.

Scotch-Brite™ industrial abrasives are unique surface conditioning products with abrasives incorporated into non-woven nylon or synthetic fibers. Combining abrasives with the fibers creates an abrasive system that gives you consistent results for the life of the product. The open-web material runs cool and is load resistant, which keeps the abrasive minerals cutting at high performance by limiting clogging of the fibers.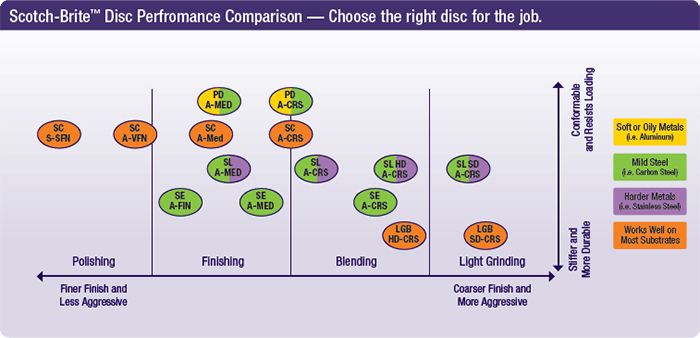 Unit of Measure:
EA
interval quantity:
50
Size:
4.5 in
Product Type:
Scotch-Brite
Grit/Grade:
MED
Product Videos
Custom Field
Product Type
Scotch-Brite
Product Data Sheet
http://images.salsify.com/image/upload/s--n-sUa7a3--/ns4jtri9jggl8hfpgkfi.pdf