Product Description
3M Precision Shaped Grain maintains super-sharp points that cut exceptionally fast with less pressure
Engineered to run cooler, reducing metal discoloration/oxidation and the chance of heat related stress cracks
Flaps grind and blend in a single step
Durable Y-weight poly-cotton backing delivers controlled, even wear for full use of the disc on low to medium-high pressure applications
A grinding aid incorporated on the disc minimizes grinding temperatures for heat-sensitive alloys like stainless steel, titanium, and nickel alloys
3M™ Cubitron™ II Flap Disc 967A is ideal for low to medium-high pressure applications on flat surfaces or outside edgework, especially in paint prep and stainless steel fabrication where final finish and gouge resistance are important.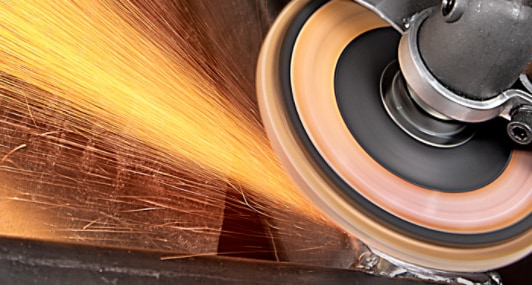 Cubitron™ II 967A Flap Disc capitalizes on our proprietary 3M Precision Shaped Grain technology to deliver superior cut rates, while the flexibility of the flap construction enables grinding and blending in a single step.

Because our 3M Precision Shaped Grain generates an exceptionally high cut-rate with less pressure, operators can finish tough tasks like weld grinding, deburring, rust removal, edge grinding, weld seam blending, and deburring faster and with less fatigue. A heat-activated grinding aid on the disc makes this an outstanding product for all types of metal—it helps keep the disc cooler on stainless steel and heat-sensitive metals such as nickel alloys and titanium, thereby reducing metal discoloration/oxidation and the chance of heat-related stress cracks.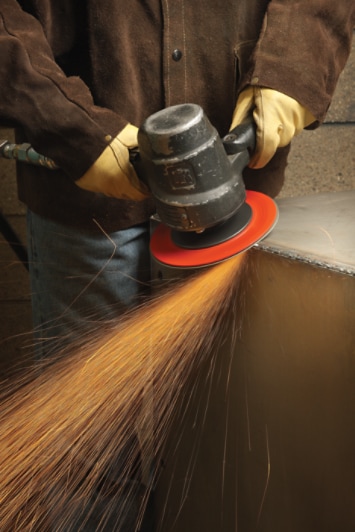 The superior performance and durability of 3M Precision Shaped Grain is enhanced by a uniquely designed heavy Y-weight poly-cotton backing that enables controlled, even wear with no premature dulling or glazing, so operators can accomplish more throughput per disc. Flap discs run on a right angle grinder. For attachment, 4-1/2" flap discs with a center hole require a flap disc adapter nut, and 7" discs require a flap disc holder (both sold separately). Discs with a 4-1/2" diameter have a max RPM of 13,300, and 7" discs have a max RPM of 8,600. Use Type 27 on flat surfaces or outside edgework. 3M™ Cubitron™ II products have raised the bar for high-performing abrasives. 3M Precision Shaped Grain outcuts and outlasts conventional ceramic industrial abrasives and requires less grinding force to achieve superior performance. The result is that operators can grind faster and complete more parts per disc with less muscle-work and fatigue.





To create 3M Precision Shaped Grain, our design engineers started with 3M™ Ceramic Abrasive Grain and used proprietary technology to form the grains into triangular structures and electrostatically orient them on the backing to form sharp peaks that maximize cutting potential. These peaks slice cleanly through metal like a knife through butter, rather than gouging or plowing as traditional abrasives do, and continuously self-sharpen as the points break off. This generates a super-fast cut and lessens heat build-up due to friction, reducing heat-related stress cracks and discoloration. 3M Precision Shaped Grain also wears evenly, and because the abrasive itself stays cooler and sharper, 3M™ Cubitron™ II products last significantly longer than their conventional ceramic counterparts, ensuring extended high performance in production applications.


Conventional Shaped Grain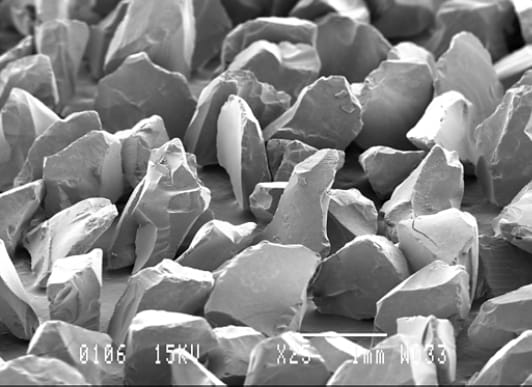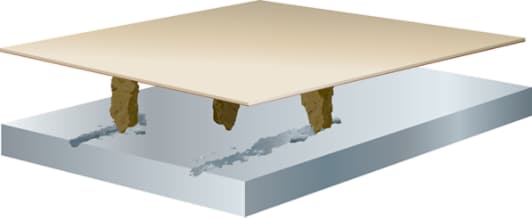 3M Precision-Shaped Grain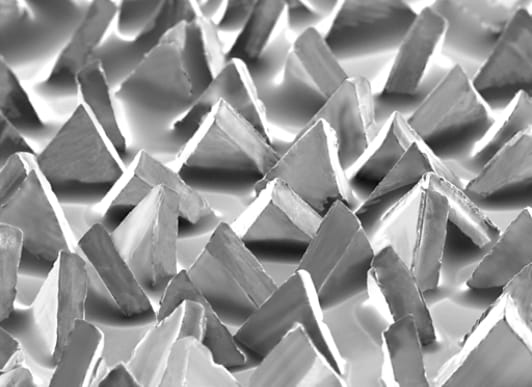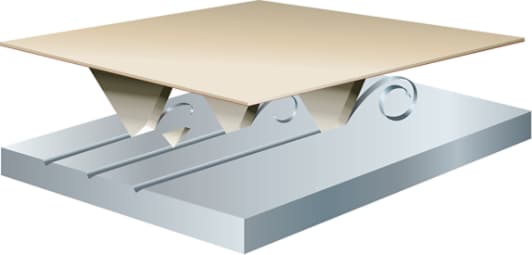 Flap discs do double-duty. They can replace bonded wheels and fiber discs because they grind and finish in a single step, making them a time and cost-saving solution in a wide range of applications, particularly where final finish and gouge-resistance are important. Use them for weld grinding, deburring, rust removal, edge grinding, and weld seam blending.

Flap discs are three-dimensional grinding discs with overlapping layers of abrasive-coated, fiber-reinforced flaps that fan out from a central hub. As the overlapping layers of the flaps wear away, they continuously expose fresh abrasive mineral for a fast, consistent cut, while the cushioning of the flaps creates a smooth finish. Under normal conditions, flap discs will generate a finish that is one grade finer than the finish of a fiber disc of the same grade. And, because their overlapping construction allows more abrasive material to be loaded onto the cutting surface, they far outlast typical discs. By reducing steps and lasting longer, flap discs can greatly improve productivity in grinding operations.
Unit of Measure:
DC
interval quantity:
10
Color:
Brown
Size:
4.5 in
Product Videos
Custom Field
Product Type
Cubitron Flap Disc
Product Data Sheet
http://images.salsify.com/image/upload/s--yNsVLcV3--/y0q8anwvmeb7oxyatraa.pdf