Product Description
Straight shaft die grinder designed to grind in hard to reach areas
1 hp motor easily handles heavyweight applications such as stock removal
Fully machined steel motor housing provides strength and durability
Wrench flats and overhose interface allow easier maintenance and compatibility with accessories
The 3M™ Die Grinder is a straight-shaft tool ideal for heavyweight applications such as stock removal and weld leveling, and are designed for continuous use with features that enhance operator comfort and control. Numerous upgrades have been added to enhance the strength and durability of the tool, while maintenance and compatibility improvements make this tool easy to use and maintain.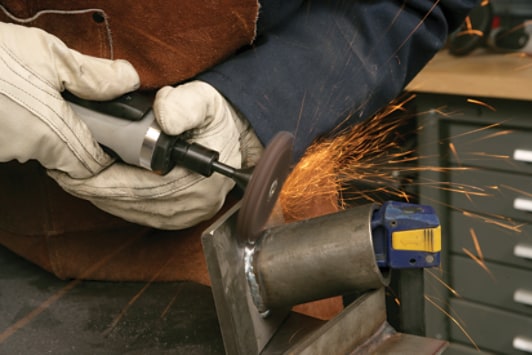 Increased durability, minimal vibration
Designed to Handle the Details
A die grinder is a handheld power tool that runs spindle-mounted abrasives such as coated abrasives or nonwoven surface conditioning abrasives. Typical coated abrasive products that you can run on a die grinder include cartridge rolls for reaching tight corners and crevices, cross pads for sanding small internal diameters, and spiral bands and flap wheels for sanding and polishing contours. Scotch-Brite™ surface conditioning products typically used include radial bristle discs, combination wheels, and cross buffs for removing rust and debris from internal diameters of small cylinders. These are just a few of a multitude of 3M™ abrasive products that can be run on a die grinder.

In addition, this tool features numerous upgrades that can improve the tool's useful lifespan. A fully machined steel motor housing adds strength and durability in rough applications, while wrench flats and an overhose interface allow for easier maintenance and compatibility with accessories. These features work together to make this a tool that you can rely on every day.
Unit of Measure:
Each
interval quantity:
1
Length:
7.75 in
Product Videos