Product Description
Assortment of the best-selling 3M™ Roloc discs
Evaluate a variety of abrasive discs and grades
Surface conditioning discs, coated abrasive discs and disc pad to back them up
3M™ Roloc™ quick-change attachment means machines spend less time idle, more time productive
Our 3M™ Roloc™ Disc Pack 982S includes 3M™ Cubitron™ II and Scotch-Brite™ discs in two-inch diameters in a range of grades to introduce you to some of our best-selling quick-change abrasive discs. Along with this set of 21 discs, you get the Roloc disc pad and adapter to use with your disc sander.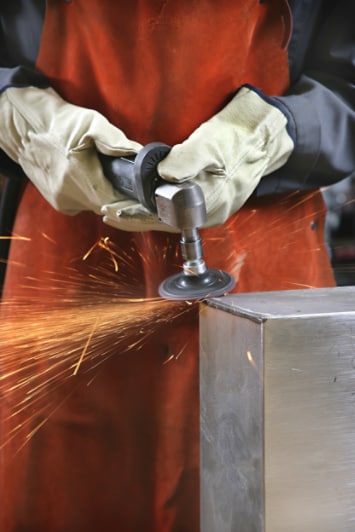 Grinding, blending, leveling and finishing on all types of metal
A Package of 3M Solutions
Evaluate our 3M portfolio (PDF, 13 Mb) of abrasive solutions with the 3M™ Roloc™ Disc Pack 982S — a package of discs designed for high performance jobs. This package introduces the 3M Roloc attachment system along with 3M-engineered abrasives to address your most challenging applications.

Grind Faster, Easier with Cubitron II™
3M™ Cubitron™ II Roloc™ Durable Edge Disc 984F offers a superior solution for tackling medium- to high-pressure grinding applications when a smaller-sized disc is needed. It excels in applications for heat-sensitive metals like stainless steel, cobalt chrome, and nickel alloys. For long life and durability, we used a laminated 2-ply polyester backing for wear-resistance in edge work. A grinding aid helps keep the disc cooler on stainless steel and heat-sensitive metals, reducing metal discoloration/oxidation and heat-related stress cracks.



Aligned to grind faster, cooler, longer
3M Precision-Shaped Grain is what makes Cubitron II extraordinary. It outcuts and outlasts conventional ceramic industrial abrasives and requires less grinding force to achieve superior performance. Grind faster and complete more parts per disc with less muscle and less fatigue.

Scotch-Brite™ Non-Woven Abrasive Discs for Optimal Results
Scotch-Brite™ Surface Conditioning Discs are constructed from 3M proprietary open-web material. Engineered to run cool and resist loading, it's durable and effective on nearly any metal. Evenly distributed aluminum oxide abrasives produce a high cut-rate for consistent finishing. Light grinding and blending discs complement this offering.

Less Idle Time with Quick-Change Attachments
A quick-change system means machines spend less time idle and your production efficiencies rise. 3M™ Roloc™ TR quick-change discs easily and quickly screw onto a Roloc™ TR disc pad. Change discs with a simple twist-off, twist-on motion. Discs remain secure in even heavy-duty applications. Swap from one application to the next in seconds.

Each TR attachment button is color-coded to identify its grade, making it easy to find the grade required for different applications.

Each Trial Pack Includes:
3M™ Cubitron™ II Roloc™ Durable Edge Discs 984F — 2-inch diameter, 3 each in grades of 36+, 60+, 80+
Scotch-Brite™ Roloc™ Surface Conditioning Discs — 2-inch diameter, 2 of each grade: A VFN, A MED, A CRS
Scotch-Brite™ Roloc™ Light Grinding and Blending Discs — 2-inch diameter, 2 of each grade: SD ACRS
3M™ Roloc™ Disc Pad — 2-inch diameter
1/4-inch Threaded Shaft
Unit of Measure:
Pack
interval quantity:
1
Size:
2 in
Product Videos
Custom Field
Product Data Sheet
http://images.salsify.com/image/upload/s--fT-EuIMe--/aqenitlfr0voqp9kfcro.pdf