Product Description
Provides excellent disc attachment yet allows quick, easy disc removal
Back up pads enable use of 3M™ Stikit™ discs (sold separately) on a disc, random orbital, or rotary sander
Variety of densities provides flexibility for varied finishes
Dust Free (D/F) disc pads allow dust extraction capability
Variety of attachment interfaces allow use with common power tools
3M™ Stikit™ Disc Pads hold 3M Stikit discs for use with disc, random orbital, and rotary sanders. They have a tough vinyl face that provides excellent disc adhesion yet allows quick, easy disc removal. A variety of lightweight, shock-resistant pads are available in 3-, 5- and 6-inch diameters.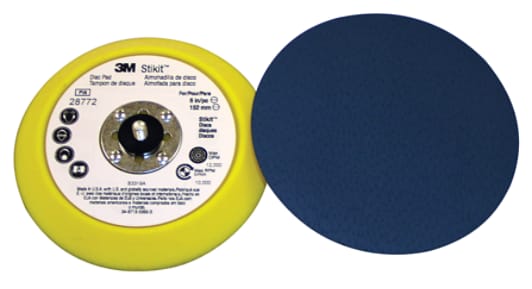 Disc pads have a vinyl face material which drives 3M™ Stikit™ Discs with Pressure Sensitive Adhesive backings
Disc Pads Drive the Action
In low profile, standard profile and low profile finishing models, the 3M™ Stikit™ Disc Pads provide well-balanced backup to drive the disc and transfer the power of the sanding device to the work surface. The Low Profile is most aggressive and recommended for flat sanding operation and coarse grade abrasive products. The Standard Profile disc pad has a 45 degree tapered edge for flexibility. It allows the sanded area to be feather edged or more easily blended and is recommended for use with medium grade abrasive products. The Low Profile Finishing provides the best finish. It is the least aggressive disc pad. Use on flat surfaces or contoured surfaces with finer grade abrasive products.

Stikit™ Disc Pads are available in dust-free versions as well for cleaner air and finer finishing results. Abrasive discs cut better and last longer when dust isn't loading the cutting surface of the abrasive. These are part of the dust-management system which feature the same multi-hole pattern in the abrasive disc and the disc pad, enabling dust extraction when used with self-generated vacuum or central vacuum tools.

Stikit™ Attachment
The 3M Stikit™ system was designed for convenient changes between abrasive grades or applications. Stikit™ abrasives come ready to use with a pressure sensitive adhesive coating on the backside so that attaching them to the hand pad is as simple as pressing on a sticker. Yet they remove cleanly without adhesive residue left on the back up pad surface. This makes for fast change-outs, saving time, and prolongs the life of abrasives.
Unit of Measure:
Pad
interval quantity:
10
Color:
Yellow
Size:
5 in
Thickness:
0.75 in
Product Videos