Posted by Posted in Product Information Real World Applications By Matt Gilbert on May 5th 2015
3M has offered a great variety of industrial masking tapes to fit a verity of applications for many years. However, the many offerings lead to confusion about which tape is really correct for your specific application. Customers either ended up paying more for a masking tape that is overkill or using the incorrect tape for specific applications which leads to poor results. As a solution to these common problems 3M decided to make choosing the correct tape much simpler and introduced a 5 tier masking system that is easy to understand and provides the perfect tape for each application.
Tier 1 - 3M™ Value Masking Tape 101+
Value Masking Tape 101+ is a cost effective solution for indoor light-duty applications such as bundles, seals and other non-critical jobs where a pressure sensitive tape is needed. This tape also offers a controlled unwind to prevent shredding or splintering and tears easily by hand.
---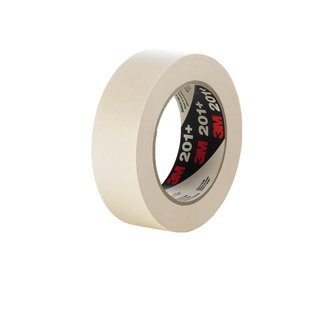 Tier 2 - 3M™ General Use Masking Tape 201+
General Use Masking Tape 201+ sticks and holds to a greater variety of surfaces such as paper, fiberboard, glass, rubber, plastic, metal and removes with no residue. This tape is dependable for higher temperature applications up to 200° F/ 93° C for 30 minutes. This tape unwinds smoothly and is also hand tearable.
---
Tier 3 - 3M™ Performance Masking Tape Yellow 301+
Performance Yellow Masking Tape 301+ is an industrial strength masking tape that sticks instantly to most any surface and removes very easy for sharp crisp paint lines. This tape will stay in place when being formed around corners, through contours and over irregular surfaces. This also features a proprietary solvent-free adhesive and a thick backing that resists bleed through and removes cleanly in one piece.
---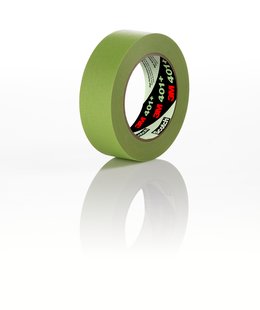 Tier 4 - High Performance Green Masking Tape 401+
High Performance Green Masking Tape 401+ is designed to deliver super sharp paint lines on higher temperature surfaces that can reach up to 250 degrees F/ 121 degrees C. This tape is ideal for masking applications in automotive, specialty vehicles and industrial markets where strong holding under high temperatures is required.
---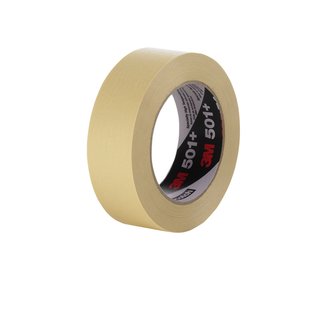 Tier 5 - 3M™ Specialty High Temperature Masking Tape 501+
High Temperature Masking Tape 501+ is the premium masking tape in the 3M line and is designed to create sharp clean paint line under the most demanding conditions including high-temperature bake cycles of up to 300 degrees for 30 minutes, and provide clean, one piece removal.