Posted by Lisa Albreada-Ponte and Rob Jasmin on Jan 6th 2014
3M™ VHB™ Tapes have been used by industries worldwide for over 25 years, replacing rivets and mechanical fasteners, to permanently bond and seal many substrates for increased productivity, high strength, long term durability, and improved appearance. However, this product is still "new" to many people. VHB™ Tape is a very high bond tape and is even considered the "World's Strongest Tape" by many. For a quick demo, please check out the following video on how 3M™ VHB™ Tape holds up next to mechanical fasteners: Slammer Strength & Durability Test
3M™ VHB™ Tape has several unique characteristics compared to other double sided tapes and fasteners making it the preferred choice in many applications:
1. 3M™ VHB™ Tapes are viscoelastic, allowing the foam to absorb energy and relax stress. Viscoelasticity also allows VHB™ tape to absorb energy and relax stresses. Energy absorption increases the effective strength of the bond providing a high level of strength, as well as excellent fatigue resistance and sound/vibration damping properties. Stress relaxation allows parts to move independently such as with thermal expansion/contraction and reduces the long term stress on the bond.
2. 3M™ VHB™ Tapes are also very strong, allowing this tape to be used in a variety of applications to replace rivets, spot welds, liquid adhesives and other permanent fasteners. They have the strength to bond traffic sign panels to the stiffeners, to bond building panels to the frame, and to bond panels, stiffeners and trim on trucks, trailers, signs and a variety a variety of other applications.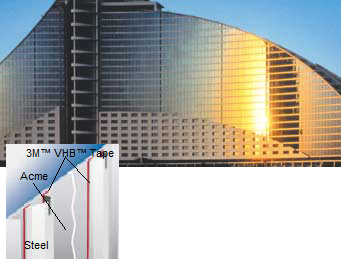 Jumeirah Beach Hotel, Dubai, UAE
Curtain wall design: Schmidlin AG, 1998
Aluminum panels bonded to steel stiffeners.

3. The all-acrylic 3M™ VHB™ Tapes have excellent long term durability as demonstrated by accelerated testing as well as over 25 years of performance in demanding applications. ­­For example, installed in 1987, 3M™ VHB™ Tapes hold the mirrored ceiling panels in the United Terminal in Chicago O'Hare Airport.
O'Hare Airport, Chicago, IL USA
Architect: Custom Products of Southgate, CA, 1987
Mirror-finish composite ceiling panels bonded to a suspension frame.

4. 3M™ VHB™ Tapes also have the unique ability to bond and seal since they are 100% closed cell, forming a tight seal for moisture, dirt and chemicals. This can be beneficial in many applications where water and moisture leakage can be problem.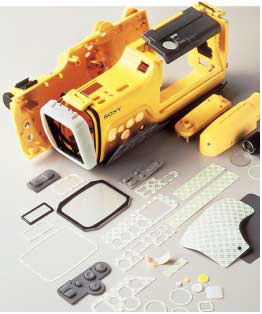 For assembly efficiency, die-cut pieces of 3M ™VHB™ Tape bond components in a water-resistant video camera case. The foam conforms to help seal the unit.
The above unique abilities combined with the ease of use and versatility provides designers and manufactures with many features and benefits when using 3M™ VHB™ Tape:
Performance

3M™ VHB™ Tapes have the strength to replace spot welds, screws, rivets and liquid adhesives combined with long term durability and excellent performance for both indoor and outdoor applications.

Productivity

3M™ VHB™ Tapes ease of use, versatility and speed can greatly enhance productivity, eliminate the need for major equipment and provide total cost reductions.

Appearance

3M™ VHB™ Tapes provide virtually invisible fastening to help keep surfaces smooth, clean and can enhance design and appearance.
With so many benefits and advantages provided when using 3M™ VHB™ Tape, there may be several instances where this product could be the answer in your specific application. For more information on determining if 3M™ VHB™ Tape is the correct product for you, please contact us to speak with one of our product specialists to discuss your specific application.