Posted by Julie DeMichiel on Feb 19th 2014
We've all heard things that go "BUMP" in the night. As a matter of fact, we hear them all day long too! With 3M™ Bumpon™ Protective Products noises, squeaking, scratches, marring and sliding are a thing of the past. Whether you are a manufacture of electronics or home goods, a carpenter building cabinets or a homeowner wanting to protect your furniture, 3M has a bumpon to solve your problems.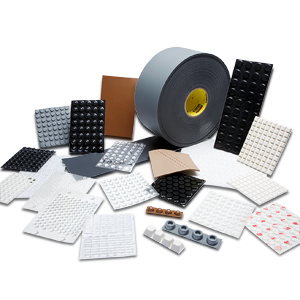 3M™ Bumpons™ are pressure sensitive adhesive-backed polyurethane "bumps" that have a wide variety of uses. They can be used as spacers, in picture frames or door frames and electronics. They are used as stops in drawers and cabinets. Bumpons have an unlimited usefulness as "feet". At work you will find them on the bottom of your printer, key board or calculator. At home they are under your microwave, blender or cutting board. On your way to and from work you will find that your ride home in your car is quieter due to bumpons. Yes, even in your car! Buzzes, squeaks and rattles are softened by bumpons used in your trunk, sunroof, seat frames and suspension.
3M™ Bumpons™ are made from a plasticizer-free urethane, which is a long-lasting resilient elastomer that resists hardening and cracking. In order to be used on such a variety of objects, 3M Bumpons come in a variety of shapes and sizes, a wide range of colors and with 3 different types of adhesives. The easy to peel liner provides a quick and easy application.
The variety of shapes includes a tapered square, cylindrical, hexagon and top-hat. The different shapes also offers different profiles ranging from low to high. The standard colors include black, white, brown gray and clear. Bumpon material is also offered in rollstock with a standard width of 4.5" or 9" in black.
With three different types of adhesive, 3M™ Bumpons™ can be used on almost anything. The bumpons with acrylic adhesive are good for items such as metal, glass or other high energy surfaces. Those with a synthetic rubber adhesive work best on items with a powder coated paint, textured paint or other low energy surfaces. Bumpons with the natural rubber adhesive are the most versatile and works well on most item surfaces.
So for a quieter night or any time of day, or for less slipping and sliding or scratching of surfaces contact the Binding Source, LLC at info@bindingsource.com or visit us at the-binding-source.mybigcommerce.com/bumpon-protective-products.html. We will be happy to find a3M™ Bumpon™ that will work for you.