Posted by Daniel Miller on Aug 12th 2013
3M™ offers two types of top quality reclosable fasteners. Our hook and loop is sometimes referred to as "velcro" in other companies. The other is Dual Lock™ which opens and closes in a unique fashion. The questions are what is the difference and which one is better? Let's discuss the primary differences and how they can affect your application.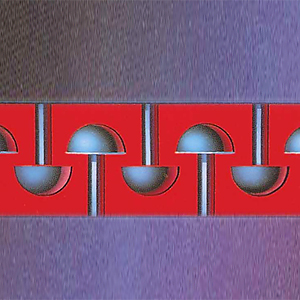 In one word the difference is the "SNAP". Dual Lock is made of hundreds of mushroom like stems that "snap" into place to form a strong attachment. The advantage to this is not having to bother with keeping each side separate in fear of premature attachment which can occur with hook and loop or whether enough pressure was applied to mate the pieces. When you hear the "snap", full attachment strength is established.
In addition to the "snap", Dual Lock™ has 5 times the attachment strength of a traditional 3M™ Hook and Loop. The interlocking stems provide a hold that is secure yet repositionable. This is ideal in applications where the items fastened must remain stationary for lengthy periods of time. It also gives "peace of mind" when the item is valuable or is a potential safety hazard if not secured properly.
Now you might be thinking that Dual Lock™ is the way to go. Let's look at what3M™ Hook and Loop can offer. 3M™ Hook and Loop is typically less expensive to buy than Dual Lock™ because the material is usually nylon or polyester. This is very helpful when the fastener you need is a very large quantity. Also, while Dual Lock™ has more attachment strength,3M™ Hook and Loop has a much longer closure life if your application requires frequent and easy repositioning. If so, then the3M™ Hook and Loop product might be the choice for you. The multitude of types is also a favorable feature of 3M™ Hook and Loop. It is available in a fire retardant version which will endure higher temperatures than any Dual Lock™ as well as a reinforced version which is excellent for sewing on to fabrics. A plain version is available which is good for nailing in or stapling, and lastly the most popular is the peel and stick with rubber and acrylic adhesives.
Choosing between 3M™ Dual Lock™ and Hook and Loop comes down to your particular application. If you need any assistance choosing the right reclosable fastener, call us at 1-800-249-3333.
-No Premature Attachment

-Stronger attachment strength

-Snaps into place

- Pricier option

- Adhesive cannot resist +200F°

- One version useable in sewing

- Peel and stick version available

-Can be cumbersome and difficult to keep apart before attachment.

-Easier to pull apart and reposition

-Sometimes difficult to line up or know if fully attached

-More economical

-Available in flame resistant version meeting aerospace and motor vehicle specs.

-Readily available in plainback version for sewing applications

- Peel and stick version as well