Posted by Mary Perry on Feb 11th 2014
What a wonderful invention! Glue dots are pressure sensitive, double-sided adhesive dots that bond instantly to virtually any surface. They can be used in a variety of applications, from temporary quick fixes around your home or office, or for creative uses, such as Scrapbooking, Card Making and School Crafts. They are a safer and less messy alternative to hot glue guns or liquid adhesives. Glue Dots are acid free and can be used on photos or special documents.
Glue Dots are 1/2" in diameter and come in rolls and dispenser boxes. In most cases they can be applied manually, however, a glue dot dispenser can make for easier application especially for commercial or industrial use.
---

Dot-N-Go glue dots are 3/8" in diameter and have 200 dots per hand held dispenser – very portable and handy for all your projects! They come in both removable and permanent dots.
---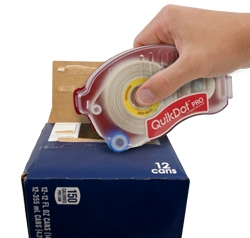 Some examples of commercial uses for Glue Dots include sealing food & beverage cartons, applying credit cards or samples to mailings, sign & display manufacturing, and material handling & shipping.
---

Advantages of Glue Dots
- Bonds instantly- No drying time
- Adheres to a variety of surfaces
- Can be removable or permanent
- Less mess than liquid adhesives
- Safer than hot glue guns
---
Types of Glue Dots
Glue Dots are available in a variety of profiles and tack.
Profile refers to the thickness of the glue dot. Low is good for flat surfaces, while medium or high profiles work better on irregular surfaces.
Tack refers to the strength of the adhesive. Low or medium may be able to be removed while high or super high tack would be permanent on most surfaces.
Use your imagination! The next time you have a craft project, a presentation or are decorating your house for a party, think of glue dots! The possibilities are endless!