Posted by Julia DeMichiel on Oct 23rd 2013
In a previous blog you learned about the differences between 3M Hook and Loop type fasteners and 3M Dual Lock. Now that you know which type of fastener you need, there are still so many choices. How do you decide which product is best suited for your application?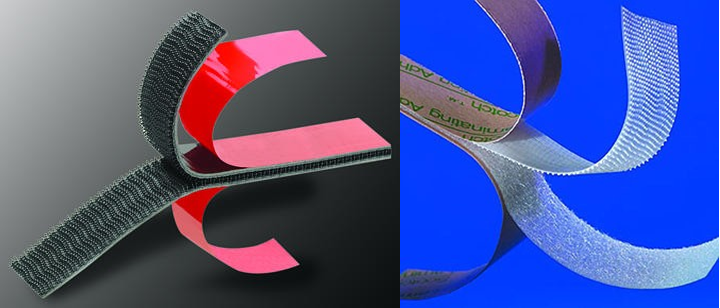 One of the features that differentiate between the products is the adhesive. Some fasteners have a rubber based adhesive while others have an acrylic adhesive. So what does this mean and how does one choose?
A rubber based adhesive is a general purpose synthetic pressure sensitive adhesive. This adhesive attaches well to most substrates. It has high initial adhesion strength with some adhesion buildup. There is good shear strength with moderate temperature and solvent resistance. Overall, products with a rubber based adhesive rank moderate in durability. Although, rubber based adhesives may be the most economical, they have a low UV resistance and may discolor over time. These products are best suited for indoor use or where the climate is somewhat controlled.
Acrylic adhesive, while having a fair initial adhesion, has substantial gradual adhesion buildup. It features a high shear strength and temperature resistance with excellent solvent and UV resistance. Products with acrylic adhesive are suitable for most outdoor applications tolerating extreme climates and sun exposure.
3M Hook & Loop

Rubber

Acrylic

SJ3526N / SJ3527N

High Performance

SJ3571 / SJ3572

High Performance

SJ3532N / SJ3533N

Modified Rubber

SJ3576 / SJ3577

High Performance

SJ3530 / SJ3531

General Performance

SJ3546 / SJ3547

General Performance

SJ3596 / SJ3597

General Performance

SJ3522 / SJ3523

Plasticizer Resistant

SJ3518FR / SJ3519FR

Flame Resistant

SJ3586FR / SJ3587FR

Flame Resistant
3M Dual Lock

Rubber

Acrylic

SJ3540

General Rubber

SJ3550

General Purpose

SJ3541

General Rubber

SJ3551

General Purpose

SJ3542

General Rubber

SJ3552

General Purpose

SJ3560

Clear

SJ3561

Clear

SJ3562

Clear

SJ3870

Modified Acrylic

SJ3871

Modified Acrylic

SJ3872

Modified Acrylic
From the exhibit display industry, to the transportation industry, and from framing to sign mounting there is a reclosable fastener that will work for you application. Please contact us if we can help you decide which choice is best for you.