Posted by Sylvia DeMichiel on Jun 23rd 2014
Safety is the number one priority for companies all around the world. When 27.8% of nonfatal occupational injuries and illnesses occur because of falls, slips, and trips, it becomes a concern. One of the ways to deter these accidents from happening is using 3M™ Safety-Walk™. This product can work in numerous conditions (dry, wet, oily) with mineral and non-mineral coats. They come in a variety of textures, colors, and sizes to meet the needs for all companies.
---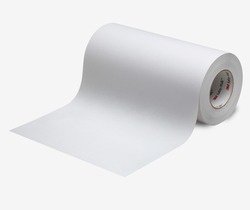 If you need something for light foot traffic areas that is in a wet environment then the 200 series is right for you! You can use these strips for bathtubs, surf boards, hot tubs, and pool areas. They are clear and white so you will barely notice them, but they will give you the nonslip safety that you need!
---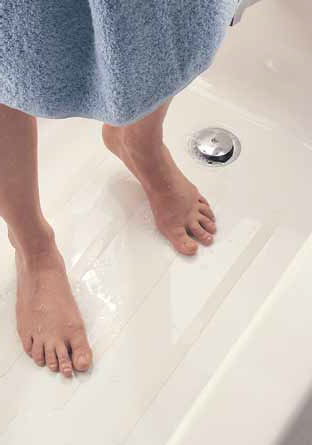 The 300 series is also great for barefoot areas, as well as shoe traffic. They are soft-textured (they won't hurt your bare feet!) with a non-mineral medium resilient surface and pressure sensitive adhesive. They are great for locker rooms, hot tubs and pool areas, boats, personal water craft, water skis, exercise equipment and conveyers. This product family is available in black and grey.
---
If you have heavy shoe traffic areas on irregular surfaces then the 500 series will work great for you! It is a high friction, pressure sensitive backed aluminum film which conforms to corners and adheres to irregular surfaces. This product family is great for stairs, ladders, loading ramps, platforms, surfaces with rivets and screw heads. This product family is available in black and yellow.
---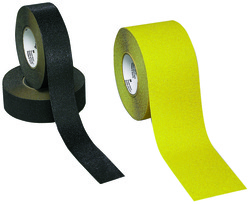 When you have a flat surface area with light to heavy shoe traffic, then the 600 series could work for you. It is mineral coated and adhered by a durable resin and a pressure sensitive adhesive backed plastic film. It has a low profile design so it won't stick out. It is great for steps, stairways, entrances, ramps, ladders, scooters and lawn equipment. It comes in black, clear, and yellow.
---
The 700 series works wonders in extreme conditions with heavy foot traffic. This product family has extra-large mineral particles and durable construction to add additional protection. It has an open abrasive pattern which hinders clogging and reduces clean up time. These work great for construction vehicles, ship and plane decks, trains, semi-trailers, oily wet areas, platforms and ramps, machine shops, agriculture and forestry equipment, and recreational vehicles. This series comes in black and grey.
---
Other products that help you when you use Safety Walk are: 3M™ Safety-Walk™ Primer 901, 3M™ Safety-Walk Edge Sealing Compound, and 3M™ Safety-Walk™ Rubber Hand Roller 903, and 3M™ Citrus Base Cleaner. The primer helps prepare rough surfaces for the application of Safety Walk. The Edge Sealing Compound assists with protecting exposed edges of Safety Walk from liquid and moisture. The Rubber Hand Holder will make sure that there is a firm bond when applying Safety Walk. These three extra products will assure you that your Safety Walk placement is the best. The cleaner will dissolve and flush away dirt, grease, tar to ensure that your product will adhere well.
There is a Safety Walk product to fit every need. They provide safety at home and at work. If safety is a concern of yours, then Safety-Walk™ can help you. If you have any questions concerning what product would work best for you or on sizes and colors call us at 1-800-249-3333 or email us at info@bindingsource.com.