Posted by Daniel Miller on Jun 13th 2014
The Best Industrial Abrasive on the Market
Choices Choices Choices
What will you eat for lunch today? Would you like American Fast Food, Chinese, Pizza, a local deli or all of the above? Today's food choices are unlimited and so are the options in the industrial abrasives market. There is one option out there that is unique and exclusive to the 3M™ Abrasives Line.
Ahead of the Curve
In 1921 3M™ created the first sand paper with a "wet" backing which enabled the use of water to enhance the sanding process. 3M™ has continued to be an innovator through the years and has done it again with the creation of Cubitron™ II abrasive technologies.
What's the difference?
Cubitron™ II has precision shaped grain which is self-sharpening and also stays cooler and lasts longer.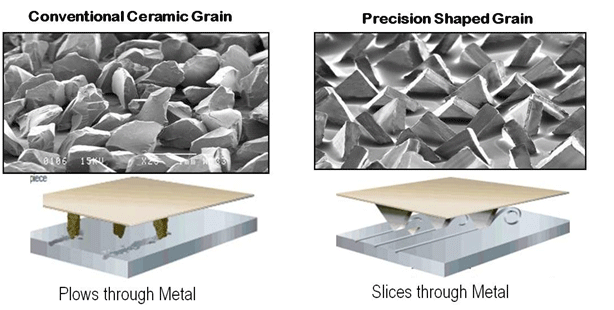 "There is nothing that cuts like the Cubitron™ II" - Metalworking Customer
Cubitron™ II > Everything
Better/Faster Cut = Less Wasted Time
Less Wasted Time = More Productivity
More Productivity= Cost Savings
Cost Savings = Increased Profits
See the Cubitron™ II Difference (click product links to see video demonstrations)
Roloc Disks that remove welds in less than half of the time of other brands. (36 seconds to remove a steel weld while competition took over 1 minute)
984 Belt runs cooler and lasts twice as long as the conventional belt.
982C Fibre Discs Cuts faster and leaves a smoother finish than type 27 discs which will mean less rework in the future (see video for comparison).
Cut off wheels cut from 2-7 times more than an everyday ceramic cut off wheel.
Threaded Gear Grinding Wheel with shorter grinding cycles and consistent finish. (Cubitron II takes about 1:30 min vs. 3 min per workpiece)
There is only one way to see the difference and that is by trying a Cubitron™ II product for yourself. Call today for free samples! 1-800-249-3333.