Posted by Jeff DeMichiel on Sep 18th 2013
So you used that super glue or high strength epoxy or the glue that bonds everything and those parts just fell apart… why? Then you put in a screw, a nut, a bolt or some other mechanical fastener and that material cracked or broke. Maybe you just didn't like the way it looked or there wasn't enough room for a screw. Are you looking for a strong sleek looking bond?
Technology has advanced today, where new materials are lighter and stronger but made from substances that are difficult to glue together. These surfaces are what adhesive experts call "low surface energy" or LSE surfaces, basically just a difficult surface to bond to. Examples of these surfaces are the polyethylene or polyolefin family. A LSE surface would be a surface that if you put a drop of water on it, the water would bead up similar to rain on a waxed car whereas on an easy to bond surface, the surface would wet out.
"Solid has low surface energy; adhesive "Solid has high surface energy;
Will bead up on the surface"Liquid will spread or "wet out" the surface"
These LSE materials are also much stronger and thinner to help design a lighter, stronger, better looking product. If you do not want to hamper the appearance or functionality of your product, you may not be able to or want to use traditional fasteners; i.e. screws, rivets, nuts, and bolts. So how do we solve this issue?
3M has developed a line of two part adhesives that will bond these surfaces quite well. Using these adhesives will allow bonding to dissimilar surfaces as well, i.e. polyethylene to metal or other plastics. With these adhesives you can distribute stress throughout the bond line which gives you a stronger bond than a rivet, screw, nut or bolt. These adhesives will structurally bond these lighter weight materials for a more aesthetically pleasing bond.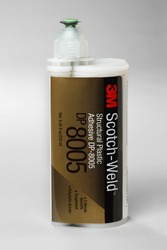 The two products that you should start to evaluate to bond LSE surfaces are the two part products, DP8005 with a five minute work life and DP8010 with a ten minute work life. These were designed to bond the LSE surfaces but will also bond plastics and metals. These adhesives are solvent free, room temperature curing adhesives that are available in convenient duopak cartridges. Basic Surface preparation is a light solvent cleaning, Isopropyl Alcohol and water, to remove surface grime. In most applications the substrates will fail before the adhesive bond. You cannot get better than that!
DP8005 DuopakCartridges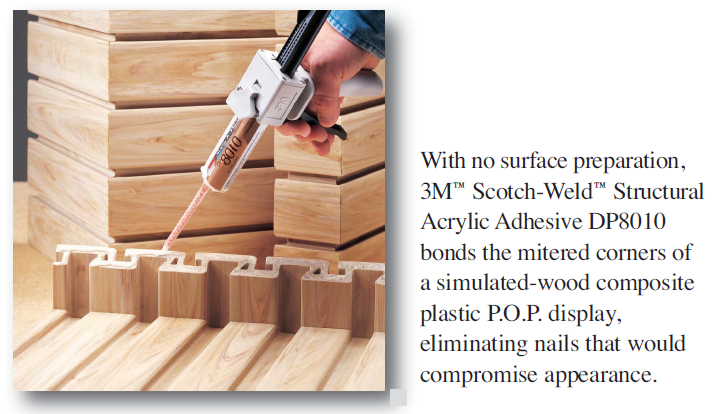 These adhesives reduce cost and improve design flexibility in a variety of applications in automotive, signage, plastic lumber, electronics and many more.