Product Description
Molded, abrasive filled bristles finish, polish, and deburr, more effectively than wire brushes
Proprietary 3M™ Ceramic Abrasive Grain blend provides high degree of finish quality throughout the life of the disc
Cleans with minimal pressure
Flexible bristles produce uniform finishes around protrusions, detail grooves, patterns, and other hard-to-reach areas
Contains no wire filaments for improved safety
Scotch-Brite™ Radial Bristle Brush, using our proprietary ceramic abrasive grain blended with aluminum oxide and molded, flexible bristles, provides more surface contact than wire brushes and maintains abrasive property throughout the life of the brush. Our brush removes paint, stains, adhesives, weld burns, rust, heavy oxides, and surface contaminants.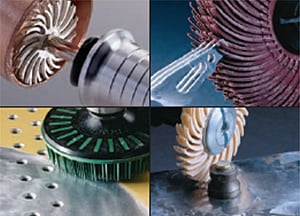 Useful for a wide range of applications
A Good Alternative for Steel Wool
Under normal use, the flexible bristles remain safely in place and can achieve the desired finish using light pressure.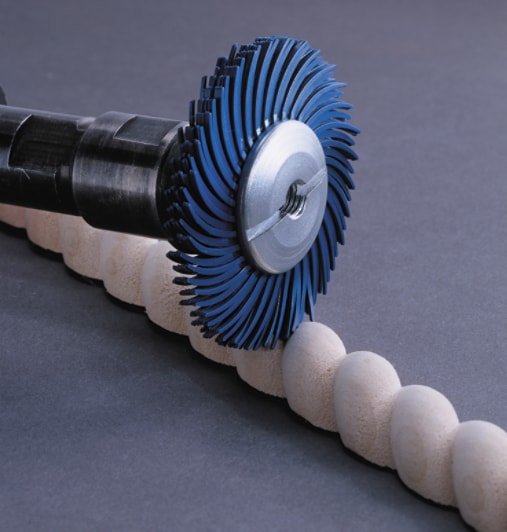 Good for contouring work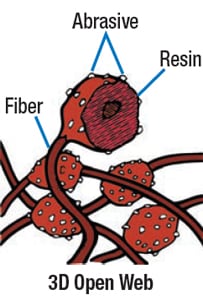 Our Scotch-Brite™ Bristle Disc is designed to last longer than wire and other abrasive discs and works well on aluminum, brass, bronze, carbon steel, cast iron, stainless steel, and other metals. Applications include general industrial, aerospace, automotive, metalworking, transportation, and automotive as well as fine detailing requirements of electronics, jewelry and woodworking industries.

The Many Benefits of Ceramic Abrasive Grain
Ceramic abrasive grain is a ceramic mineral manufactured using one of our proprietary processes to enhance toughness and hardness of the grain. For increased performance, Scotch-Brite™ Bristle Discs feature aluminum oxide blended with ceramic abrasive grain for one of the hardest, longest-lasting minerals available. Perfect for moderate to heavy stock removal, ceramic abrasives are engineered to cut fast and handle intense heat and stress applications. Ceramic abrasive grain surpasses aluminum oxide abrasives in cut-rate, durability, and makes an excellent choice for industrial grinding and finishing applications.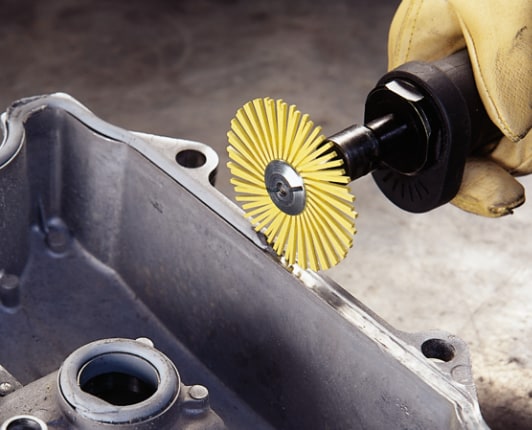 Good for edge work

Open Web is Load Resistant
Scotch-Brite™ industrial abrasives are unique surface conditioning products with abrasives incorporated into non-woven nylon or synthetic fibers. Combining abrasives with the fibers creates an abrasive system that delivers consistent results for the life of the product. The open-web material runs cool and is load resistant, which keeps the abrasive minerals cutting at high performance by limiting clogging of the fibers.
Unit of Measure:
BH
interval quantity:
2
Color:
Red
Size:
7.62 in
Grit/Grade:
220
Product Videos
Custom Field
Product Data Sheet
http://images.salsify.com/image/upload/s--GzBBPLZ8--/d3kksofakgsodgltnvvh.pdf