Product Description
Ultra fine grade silicon carbide outperforms steel wool to clean, finish, and buff a variety of metal surfaces
Durable non-woven, open web construction won't shred, rust or splinter like steel wool
Preps primer paint for final coat without splintering or contaminating the surface
Conformable pad accesses corners and other hard-to-reach areas
Open web construction resists loading and allows easy cleaning for repeated use
Scotch-Brite™ Light Duty Hand Pad 6448 combines durability for long life, flexibility for reaching tight areas, and replaces steel wool for conditioning metal surfaces and paint prep without shredding, rusting, or splintering.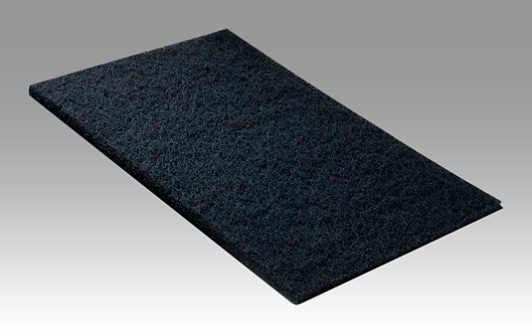 Conformable pad accesses
corners and hard-to-reach areas
Versatile Pad Is a Great Addition to Any Workshop
The durable open-web construction is load resistant, offers long life and consistent abrasive action for cleaning, finishing, and buffing with no need to adjust, turnover, or continue the same project with a new pad.
Our Scotch-Brite™ Light Duty Hand Pad 6448 gets into corners and works detailed surfaces without altering the dimensions of the base material. Designed to run cleaner and longer than steel wool, this versatile pad is a useful item for any workshop. The Scotch-Brite Light Duty Hand Pad 6448 can be used right out of the box by hand, paired with a hand pad block, or run on an in-line sander for faster completion on larger areas.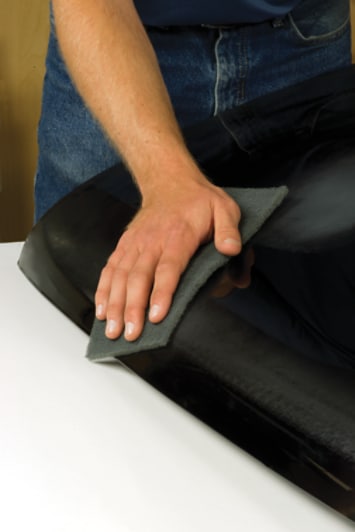 May be used by hand
for precise control
Made with Silicon Carbide Mineral
This dark grey pad is filled with silicon carbide abrasive mineral, a synthetic mineral that is very sharp and commonly used for low-pressure applications such as paint prep. While it breaks down faster than aluminum oxide, it produces a superior finish.
The Many Advantages of Scotch-Brite™ Abrasives
Our Scotch-Brite™ abrasives are unique surface conditioning products with abrasives incorporated into non-woven fiber matrix. Combining abrasives and non-woven material creates an abrasive system that delivers consistent results for the life of the product. The open-web material runs cool and is load resistant, which keeps the abrasive minerals cutting at high performance by limiting clogging of the fibers.
Unit of Measure:
Case of 60 pads
interval quantity:
1
Color:
Dark Gray
Length:
9 in
Product Type:
Scotch-Brite
Grit/Grade:
ULF
Product Videos
Custom Field
Unit of Measure
Case of 60 pads
Product Type
Scotch-Brite